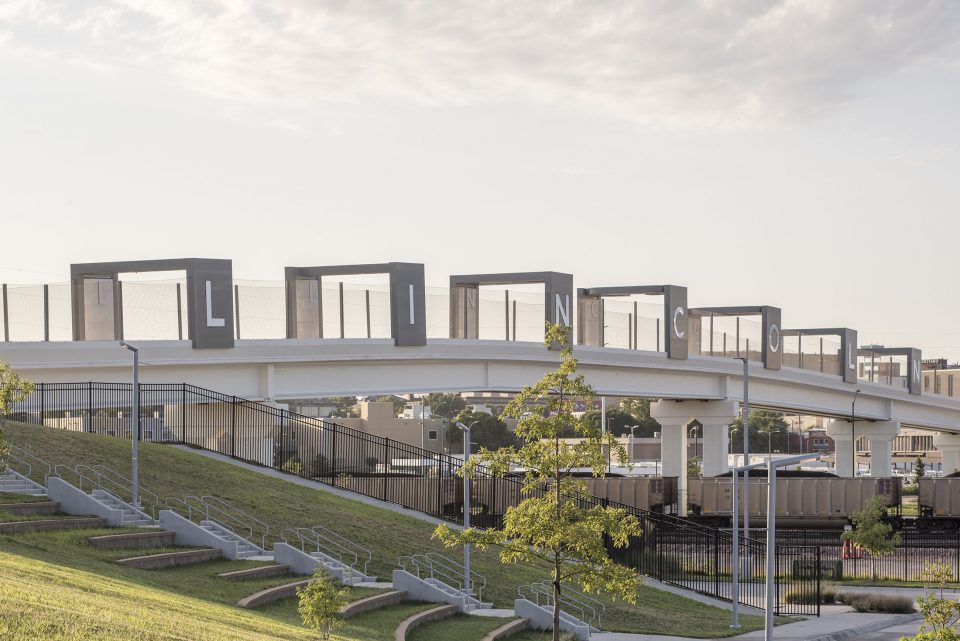 eConstruct receives PCI award for the Haymarket Bridge.
http://www.pci.org/Project_Resources/Project_Profiles/Profile_Pages/Haymarket_Pedestrian_Bridge_Project/
Designers of the West Haymarket Pedestrian Bridge in Lincoln, Neb., took a simple pedestrian walkway, and made in a focal point for the city. The 614-ft-long precast concrete structure, which links a new downtown sports facility and entertainment district to nearby parking, floats high above four lanes of highway and six active railroad tracks, and features the city name spelled out in lighted architectural elements that can be read from the road, the walkway, and from above.
"This bridge is considered a gateway structure into the City of Lincoln," says Amgad Girgis, founding partner of eConstruct USA, the engineer on the project. By using relatively shallow precast concrete beams, the designers were able to increase the vertical clearance providing ample space to make the aesthetic statement. The letter boards are lit-up every night and each is engraved a quote from a famous person in Nebraska history. "This makes the bridge not only a conduit between the arena and the parking lot/amphitheater, but also an iconic landmark," he says.
After considering many design options, including truss, arch, and suspension options, the designers chose a modern precast concrete I-girder design, with curved fillets and rounded surfaces, which met the cost, durability, and aesthetic goals of the project.
"City officials recognized the value of precast, prestressed concrete from the start," Girgis says. "It was the most attractive option and the least expensive one at the same time."
Precast Solution
One of the biggest challenges of this project was the fact that it spans six active railroad tracks, which meant construction activities had to be limited to just 3 hours at a time so as not to disrupt rail traffic. To address this issue, the design team used the concrete railing as part of the total composite section, along with the girder and the deck. "This nonconventional use of concrete railing required careful analysis and detailing to ensure composite action, adequate compression face capacity, and adequate crack control measures," Girgis explains. The design team also limited shoring to one temporary tower to avoid infringing on train traffic while maintaining a reasonable maximum precast concrete segment of 140 ft.
The bridge is also on a very sharp vertical curve, which created a challenge in achieving the target profile with straight prestressed concrete girders. Instead, the vertical profile was adjusted so that the point of inflection was located over the temporary pier at the girder splice, which allowed the designers to "kink" the closure pours over the temporary pier, minimizing the closure period of the railroad during construction. To further speed construction and reduce impact on local traffic, the engineers cast all the joints and closure pours and diaphragms prior to posttensioning.
The curved design, coupled with the long slender precast concrete girders, adds grace to the structure, without overshadowing the required prominence view of the arena structure, Girgis says. "The slenderness of the bridge and the pronouncement that a visitor has arrived at the Nebraska capital city of Lincoln are testament to what a simple cost-effective precast concrete girder system can achieve."